Products are widely used in paint, building materials, plastic rubber, ceramic pigments, ultra-fine pigments and other industries

"Survival by quality, development by integrity" is our development philosophy
Zibo Shuangmu Pigment Co., Ltd. is the home of Pu Songling, the home of short stories in the world. Mainly engaged in iron oxide red, iron green, iron blue, iron black, iron yellow, iron brown and a series of iron oxide pigments. Products are widely used in paint, building materials, plastics and rubber, ceramic pigments, ultra-fine pigments and other industries. The iron oxide red of HOO1-O4.HOO1-5.130.190 sold by Shuangmu meets and exceeds the technical requirements of the domestic standard

Products are widely used in paint, building materials, plastic rubber, ceramic pigments, ultra-fine pigments and other industries


"Survival by quality, development by integrity" is our development philosophy
Experience Rich

20 Years of industry experience have formed an efficient team integrating R & D, production and sales.

The products are sold to all parts of the country and have received favorable comments from customers.

Specialization MGT

H130 H190 H110 Y101 iron oxide red G313 8313 iron oxide yellow produced and sold by Shuangmu Pigment meets and exceeds domestic standards. Elaborate and strict inspection!
quality PRO

Constantly pursue new, special and excellent products. Bright colors, high weather resistance, strong hiding power and strong tinting power。

Reliable product quality and reasonable price have won unanimous praise from customers

Applications Widely

Products are widely used in paint, building materials, plastics and rubber, ceramic pigments, ultra-fine pigments and other industries.

Sincerely welcome friends from all walks of life to visit, inspect and negotiate business!

Learn about related news
Zibo Shuangmu Pigment Co., Ltd. The main production and operation of iron oxide red iron yellow iron black iron green iron brown royal blue and a series of iron oxide pigments. Products are widely......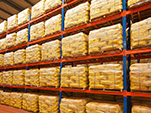 Application of iron oxide red It is mainly used as a pigment. It is divided into iron oxide red, iron oxide yellow, and iron oxide black according to color. It is used in paint, ink, rubber and other......